« I attribute this to the finger on the pulse of fashion being momentarily numb | Home | On ebay #12 »
By bigglassesgirl | August 10, 2007
The end to these lazy, hazy, crazy days of summer may well be on the horizon, but until I actually step foot back at uni I fully intend to revel in my low-productivity. Key steps to ensuring a low-stress atmosphere include, but are not limited to: daily reading of the mind-numbing actions of celebrities, the perusement of fashion sites, strolls in the sunshine, the renting of old movies, leisurely bike rides…and now, engaging in the brilliance that is stardoll. Oh how this site brings me back to my 7 year-old self. All through childhood I loved paperdolls. The folding of the crease on the flaps, the easy switcheroo of clothes on a paper cutout, the challenge to see how many pieces could be slapped on top of one another before no more would fit; now you can do all this online. What joy, what fun, what a great procrastination tool for future essay mindblanks come September.
Since the site is most likely geared to the younger set generation, it lacks some of my dress-me-up picks (how about a Lou Dillon doll? Emmanuelle Alt pretty please), but it is hilarious viewing to see what choices are available. For anyone who missed out on "Harry on a Horse" in London, there's a 2D version of the Potter champ in his briefs to dress up. Kelly Ripa is in attendance with a gorgeous fake-n-bake hued skintone akin to rhubarb, and Lindsay Lohan is paid tribute to with a depiction that shows her with a post Freaky Friday wardrobe, her Mean Girls hairstyle, and her Nicole-Ritchie-as-bff body weight. There are also oddities like Bridget Moynahan (why dress her when you can dress Gisele), David Hasselhoff (now if that image isn't scarring I don't know what is), and Ryan Seacrest (complete confusion).
I had fun dressing up Grace Kelly and Lily Cole. I would have dressed up the Olsen twins, but the two ladies come with the same unfortunate wardrobe on the site.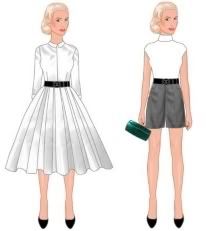 And okay, I had to have some fun with Harry Potter. Bit unfortunate his doll carries a less creepy face than the real version, hm?
Note 1: the newer of the two Hilary Duff dolls has one of the best wardrobes on the site.
Note 2: Bridget Moynahan, Gisele Bundchen, AND Tom Brady exist on the site. Hooray for representing the entire love triangle.
Note 3: I have spent too much time on this site already. For shame.
Topics: no seriously |
Comments