« I don't have anything in this colour; that's my excuse and I'm sticking to it. | Home | Lessons in procrastination »
By bigglassesgirl | August 9, 2007
I have been infatuated with brogues and jazz shoes since (at least) last December. I have harped on about them incessantly. Positively, I was already a dedicated fan by December 26th. How can I narrow down my infatuation so precisely? Mainly because I bought my brogues on boxing day, and was wearing my old (actual) jazz shoes to holiday parties weeks before.
So I feel that I can look haughtily down my nose when I read just now on fashionwiredaily that the jazz-shoe phenomenon is being heralded as a trend to takeover ballet flats for this fall season. Surely someone missed hearing the snooze button on that piece of information.
A few other tidbits from the article that I scoff a bit at:
that the generalization to discount ballet flats is made, save for the Lanvin version. Understandably said flats are darling, but I think that Gucci's version, with ankle strap, should not be ignored either. Nor should Miu Miu's patchwork version. Can you say cute? And I don't even like pink.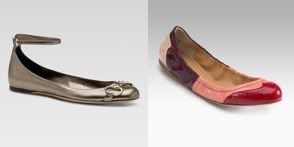 the suggestion to pair jazz shoes with denim. Brogues, sure, as the structure of the shoe will work whenever. But regarding jazz shoes, if this refers to full-length jeans, I would hope the article would specify that slim-cut jeans work with the shoe style while a wideleg variety…not so much. That combination, because a jazz shoe is less structured, runs the risk of looking as if an actual slipper is sticking out from underneath the flare of the pant.
If fashionwiredaily would like someone to forecast must-have pieces/looks/styles in a timely fashion, let this be my official proclamation of availability for said position. My first tidbit of information? Fishtails will be the new hairstyle of choice. This has nothing to do with the fact I just taught myself how to braid one a mere month ago. I swear.
Topics: insider's peek |
Comments